Manga Crush!
is a weekly meme hosted here,at
Daydreaming Bookworm
where you rant about the manga character on whom you have recently developed a crush.For more info on the meme,click
here
.
For today's Manga Crush! ,I'll be ranting about Tamaki Suoh from Ouran High School Host Club.As usual,before ranting,here are some info on the manga:
Title: Ouran High School Host Club
Year of release: 2003 Status: Completed Author: Hatori, Bisco Artist: Hatori, Bisco Genre: Comedy,Drama,Harem,Romance,Shoujo Blurb:
One day, Haruhi, a scholarship student at exclusive Ouran High School, breaks an $80,000 vase that belongs to the Host Club, a mysterious campus group consisting of six super-rich (and gorgeous) guys. To pay back the damages, she is forced to work for the club, and it is there that she discovers just how wealthy the boys are and how different they are from everybody else.
Now, prepare yourselves for the ranting! :)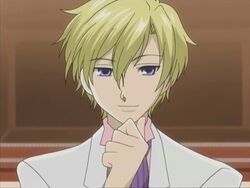 René Tamaki Richard de Grandtaine
,
or
Tamaki Suoh
, is the founder and president of the
Ouran High School Host Club
.At first seen as more of a natural-born charmer, it's soon shown that Tamaki is the main source of comic relief through his antics and over-the-top behavior. Even though he is smooth-talking and charming around his clients, when around his friends and Haruhi he is often shown as a naive goofball.
While the sweet and romantic demeanor he shows towards women is genuine and not a cheap put-on, his Host personality is probably the least like himself out of the whole group. He is shown to have a huge ego, immediately warming up to anyone who compliments him and breaking down whenever insulted. He is also the most in denial about his feelings for Haruhi, even though everyone, even strangers, can see how much he loves her.
Tamaki also shows a competitive streak, especially when he is up against
Hikaoru
and
Kaoru
,in other words,"those treacherous twins."
It's revealed that he actually has always wanted friends (he never had many), which is one of the reasons he started the Host Club.
He never turns people down for help, even when their intentions are not as good as he believes.
His personality is best described as child-like, having honest fun when playing games like kick the can, and keeping an adored teddy bear. His serious side is often shown when someone is in trouble, coldly scolding a
defiant Haruhi when she puts herself in danger, and comforting her quietly when a thunderstorm strikes. Tamaki is always forgiving, being polite and kind to his vicious grandmother and even giving a genuine smile to his scheming fiance when she lets him go. His fiance later wonders how he can be so kind-hearted after all she'd done to him.
Tamaki obviously has some family issues: He sees clubs as families, which is why he was so adamant to help the newspaper club. He wanted friends, which was why he started the Host Club. And he was determined to do anything to keep the Host Club together, even if that meant (unconsciously) keeping his feelings for Haruhi suppressed.
Surprised with my pick this week?Hey even I love charming and adorable guys! :)His cheerfulness and child-like behaviour makes me wanna cuddle him!XD But then again,as usual,reality dawns on me and I realize that he's a fictional character.*Sigh*,why oh why does it always have to be fictional guys?Why couldn't it be a real guy instead?!And Haruhi soooooo does not deserve him!If it were me I'd take better care of him. :'( Oh and guess what he also has an early bedtime,like me!Don't laugh,it's my mom's choice.We even fought over this,about how I'm fifteen and that I shouldn't have an early bedtime anymore.But did she listen?Nooooo.Oh,and did I mention that he's half French?Oh that beautiful whit-blond hair and those delicious violet eyes! <3 u Tamaki! Waaay more than Haruhi ever will!Oh, and here's my collection of some adorable pictures of him:
I think that's enough for now.If I try to post all the pictures then this will have no end.Let me know about your manga crush this week.Just leave the link to your
Manga Crush!
post on the Mister Linky's Magical Widget below. :)