* ORIGINALLY POSTED AT THE BENGALI NOMAD. **
Title:
To Kill a Kingdom
Author:
Alexandra Christo
Publication (of my edition):
March 6th, 2018 by Feiwel and Friends
Purchase details:
Received an Advanced Reading Copy from Macmillan U.S.
Blurb:
Princess Lira is siren royalty and the most lethal of them all. With the hearts of seventeen princes in her collection, she is revered across the sea. Until a twist of fate forces her to kill one of her own. To punish her daughter, the Sea Queen transforms Lira into the one thing they loathe most—a human. Robbed of her song, Lira has until the winter solstice to deliver Prince Elian's heart to the Sea Queen or remain a human forever.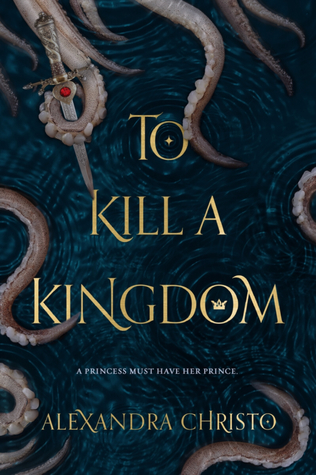 The ocean is the only place Prince Elian calls home, even though he is heir to the most powerful kingdom in the world. Hunting sirens is more than an unsavory hobby—it's his calling. When he rescues a drowning woman in the ocean, she's more than what she appears. She promises to help him find the key to destroying all of sirenkind for good—But can he trust her? And just how many deals will Elian have to barter to eliminate mankind's greatest enemy?
** A huge thanks to Macmillan U.S. for providing me with an advanced reading copy of this book**.
To Kill a Kingdom
starts off with an unexpectedly dark twist. The female protagonist is a siren who literally steals hearts, whereas the male protagonist is a prince turned pirate/siren hunter. In the sea kingdom, sirens are only allowed to kill a human and steal their heart on birthdays. Lira was well known for stealing the hearts of princes; her actions earning her the nickname of "The Prince's Bane". But when she ignores the rules and steals a heart well before her eighteenth birthday, the Sea Queen turns her into the very creature which she has spent her entire life hunting: a human.
The story was a very refreshing portrayal of Hans Christian Anderson's original tale. Yes, there is romance. But it is a different form of romance, one with a more presumptuous undertone. Both protagonists exude dominating personalities. There are no damsels or lads in distresses. Only two egotistical individuals with remarkable chemistry between them.
Prince Elian's personality reminds me a bit of Roronoa Zoro from the anime
One Piece
. In fact, this entire story could be a crossover between
One Piece
and
The Little Mermaid
, followed by a storyline that takes its own route. There is also a reference to the Greek myth of
The Midas Touch
, which was used to shape Prince Elian's kingdom.
Overall, To Kill a Kingdom was brilliantly written, with surprisingly marvelous worldbuilding. One thing's for sure: the author had gone out of her way to make the novel as creative as possible.