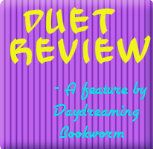 Duet review is a feature where I review a book along with my friend,Maliha.For more info. on this feature,check out my very first Duet Review post HERE.
Here's the book that we are going to review today.
Publication date: May 7th 2013 by HarperTeen


Blurb: Five years ago, Wren Connolly was shot three times in the chest. After 178 minutes she came back as a Reboot: stronger, faster, able to heal, and less emotional. The longer Reboots are dead, the less human they are when they return. Wren 178 is the deadliest Reboot in the Republic of Texas. Now seventeen years old, she serves as a soldier for HARC (Human Advancement and Repopulation Corporation).

Wren's favorite part of the job is training new Reboots, but her latest newbie is the worst she's ever seen. As a 22, Callum Reyes is practically human. His reflexes are too slow, he's always asking questions, and his ever-present smile is freaking her out. Yet there's something about him she can't ignore. When Callum refuses to follow an order, Wren is given one last chance to get him in line—or she'll have to eliminate him. Wren has never disobeyed before and knows if she does, she'll be eliminated, too. But she has also never felt as alive as she does around Callum.

The perfect soldier is done taking orders.
MY REVIEW:
Rating:
3.5 of 5 Stars


**A copy of this book was provided by HarperCollins for review purposes.**
Reboot,for me,was a fun and thrilling dystopian read.I've been on a reading slump lately thanks to my finals and all the coachings I currently have to bear with my O'levels coming up,so reading this book helped a lot in easing up the pressure a bit.It's not like it's one of the best dystopians I've ever read( Hunger Games and Delirium are still on top of that list) but it did make my reading time a whole lot more fun!It had the promising amount of fast paced action and a limited amount of sweet romantic scenes which I think went well with the storyline.
The general idea of the resurrected dead being used by the government as soldiers because they don't know what else to do with them really got my mind wandering.If this idea was used in some sci-fi TV series or movie it would've been one heck of a show!Among the characters,the main character,Wren Connolly,was an absolute winner(I do love me some bad ass heroines!) and reminded me of another favourite protagonist of mine;Calaena Sardothien from Throne Of Glass.Though the different books have completely different time settings,their mindsets are so similar,it's like they could be sisters!
So anyway,moving on,while I did like Wren a lot,I couldn't say the same for Callum.He started out as an interesting character,but towards the end of the book,he lost his charm.The same goes for the plot.Everything was going so well until the last few chapters came out to be a bit less polished than the others.But overall the entire book was great and would sum up for a nice spare time read.Another thing about the book is that I found it really easy to proceed with.I frequently get bored of books halfway and put it on hold for a few days before I feel like reading it again.Reboot did not have any such outcome on me.I was able to finish Reboot in one sitting and gosh did that feel good!If you're a dystopia fan,particularly of The Hunger Games,this book just may be your perfect cup of tea!
Rating:
3 of 5 Stars


Reboot was a short and fun read. It's like one of those post-apocalyptic books where humans die and "reboot" to become zombies. Only instead of being mindless hungry freaks, they are trained to become soldiers and used for the benefit of humans. Yes, the bad guys here are human.
When I read the blurb and it said the heroine had been dead for 178 minutes - longer than the average time, before she rebooted, and therefore had the least of emotions, I expected to read about a disconnected character who regains her humanity with a cure or something. Well, you can rest assured that the heroine is not like this, but just one snarky girl. She's insecure about her death but otherwise, a respected leader. No, this isn't one of those forbidden romance stories between a human and an undead, but both the hero and heroine are Reboots. Isn't that a nice change of concept?
Callum, oh Callum, with his sweet and funny and determined nature, became one of the most loyal and admirable heroes I've read. I felt so sorry for him when he faced his family.
One thing that irked me was the whole resistance thing - humans and Reboots working together to overthrow the evil human government. Must all dystopian books share this one idea? Whether it was original or not, I wish the couple had escaped for, you know, just because they wanted to. Just because they wanted to be together without killing anyone and following wrong orders. Not because they have to act in a rebellion. For just once, I wish to read about heroes and heroines who started a rebellion, not just participated and suddenly starred in it.
But the best part about this book was how the Reboots are. They're not dirty, boring half-dead creatures. Oh no, they've actually taken to the nature of vampires - no not the blood sucking or immortality part but just the becoming prettier and stronger part. This is a very amusing and original idea, that the undead are better than the humans!
So while it may not be an irresistible book, it's definitely worth giving a try. I'm looking forward to the sequel eagerly!!
GIVEAWAY!!!
If you buy Reboot(though it is not mandatory),you can enter to win a paperback of another Harper title,Towering by Alex Flinn(see my review HERE). This giveaway is international and please see the Terms And Conditions on the rafflecopter widget.Good Luck!!
Book Being Given Away:
Towering by Alex Flinn
At first, I merely saw his face, his hands on the window ledge. Then, his whole body as he swung himself through the window. Only I could not see what he swung on.
Until, one day, I told my dream self to look down. And it was then that I saw. He had climbed on a rope. I knew without asking that the rope had been one of my own tying.
Rachel is trapped in a tower, held hostage by a woman she's always called Mama. Her golden hair is growing rapidly, and to pass the time, she watches the snow fall and sings songs from her childhood, hoping someone, anyone, will hear her.
Wyatt needs time to reflect or, better yet, forget about what happened to his best friend, Tyler. That's why he's been shipped off to the Adirondacks in the dead of winter to live with the oldest lady in town. Either that, or no one he knows ever wants to see him again.
Dani disappeared seventeen years ago without a trace, but she left behind a journal that's never been read, not even by her overbearing mother…until now.
a Rafflecopter giveaway