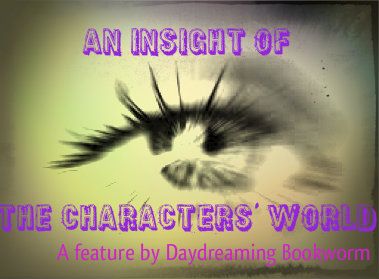 This is a feature where I ask authors to do a guest post discussing about the world building of their books and share their experiences in creating the world for their characters.For more information on this feature,click HERE.
Today,Liesl Shurtliff stops by at Daydreaming Bookworm to discuss about the world building of her MG debut,Rump,which is a retelling of Rumpelstiltskin.Thanks so much for stopping by,Liesl! :)
ABOUT RUMP:
In a magical kingdom where your name is your destiny, 12-year-old Rump is the butt of everyone's joke. But when he finds an old spinning wheel, his luck seems to change. Rump discovers he has a gift for spinning straw into gold. His best friend, Red Riding Hood, warns him that magic is dangerous, and she's right. With each thread he spins, he weaves himself deeper into a curse.

To break the spell, Rump must go on a perilous quest, fighting off pixies, trolls, poison apples, and a wickedly foolish queen. The odds are against him, but with courage and friendship—and a cheeky sense of humor—he just might triumph in the end.
ABOUT LIESL:
Liesl Shurtliff
was born and raised in Salt Lake City, Utah, with the mountains for her playground. Just like Rump, Liesl was shy about her name, growing up. Not only did it rhyme with weasel, she could never find it on any of those personalized key chains in gift shops. But over the years she's grown to love having an unusual name—and today she wouldn't change it for the world!
Before she became a writer, Liesl graduated from Brigham Young University with a degree in music, dance, and theater. She now lives in Chicago with her husband and three young children, where she still dreams of the mountains. Rump is her first novel.
LINKS:
GOODREADS
FACEBOOK
TWITTER
WEBSITE
Lie

sl's Guest Post:
An Insight of the Characters' World:
RUMP: THE TRUE STORY OF RUMPELSTILTSKIN by Liesl Shurtliff
When I started to write a retelling of Rumpelstiltskin, I decided I wanted to stick pretty closely to all the major events of the original tale, the unique shift being in the point-of-view character. My Rumpelstiltskin was going to be a loveable hero, so how could I explain all the strange and horrible things he does in the original tale? The world of Rump plays and intricate and vital role in accomplishing this seemingly impossible task.
Names
From what I recall, my very first idea for this story was that names would be at the center of Rump's world. That made total sense to me. In the original Grimm's tale of Rumpelstiltskin, it is his name that is the key in the end, though we don't know exactly why or how. Some folklorists believe that Rumpelstiltskin was a demon that wanted the baby to feed upon, and discovering a demon's true name gives you power over him. This answer seems logical enough, but I wanted to defy logic. My Rumpelstiltskin had to be loveable
.
So the first thing I realized about this world was that na
mes were intricately tied to a person's destiny. Your name affects your future, how people judge you and treat you. A name might reveal social status or a particular power or virtue. It might also reveal weakness or the sorrowing of a parent. Though it's magnified in the world of Rump, this is not wholly unfamiliar territory in the real world. Names have always held great meaning and power in many cultures; I just took it to another level. With Rump in particular, his name reveals a gap in his identity. His mother died before she could reveal his entire name, leaving him with a rather embarrassing portion. This is the starting point for the entire story.
Magic
Names were the easy part to work with in this world. It was an obvious choice from the beginning, but what about the magic of this world? As I considered other aspects of the tale, such as spinning straw into gold, I had to consider a magic system. Who could use magic? What were the consequences of its use? I felt the more specific and concrete the answers, the better. For Rump, the magic of spinning straw into gold is deeply rooted in his family history, as are the consequences of that magic, which don't reveal themselves right away. And without giving away too much, Rump's magic is also connected to his name.
Magical Creatures
Though I did not want to create a high fantasy world full of elves, dwarves, centaurs, mermaids, dragons, etc. I wanted Rump's world to be magical beyond just the use of magic. That is, I wanted some magical creatures. This part was slower for me, probably because it intimidated me. I like magical worlds, but they also need to have some basis in logic in order for them to be satisfying, and I don't like to make things up just to add flavor and intrigue to the story. Anything that pops up in my story, in the end, must have a necessity. So the pixies and gnomes and trolls that Rump runs into along the way are all entertaining in their own way, but they also each play roles in moving the story along and even bringing about the resolution.
Building the world of
Rump
was challenging, but so rewarding as I found those moments of connection between the fantasy and reality. That's when a fantasy world really comes to life.
GIVEAWAY!!!
Liesl is giving away a signed copy of RUMP and a bookmark to one lucky INTERNATIONAL winner!Enter using the rafflecopter below and check the Terms And Conditions on the widget for the r

ules.Good Luck! :)
a Rafflecopter giveaway