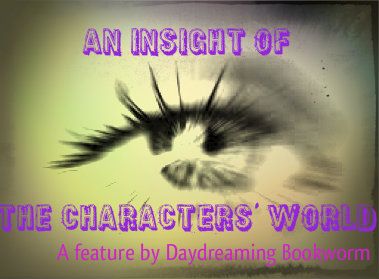 This is a feature where I ask authors to do a guest post discussing about the background of their books and share their experiences in creating the world in which the characters are portrayed.For more info on this feature,click HERE.
Today,Cat Winters stops by to share her insights on her upcoming debut,In The Shadow Of Blackbirds.Thanks for st

opping by,Cat! :)
IN THE SHADOW OF BLACK
BIRDS by CAT WINTERS
In 1918, the world seems on the verge of apocalypse. Americans roam the streets in gauze masks to ward off the deadly Spanish influenza, and the government ships young men to the front lines of a brutal war, creating an atmosphere of fear and confusion. Sixteen-year-old Mary Shelley Black watches as desperate mourners flock to séances and spirit photographers for comfort, but she herself has never believed in ghosts. During her bleakest moment, however, she's forced to rethink her entire way of looking at life and death, for her first love—a boy who died in battle—returns in spirit form. But what does he want from her?

Featuring haunting archival early-twentieth-century photographs, this is a tense, romantic story set in a past that is eerily like our own time.
ABOUT THE AUTHOR:
Cat Winters was born and raised in Southern California, near Disneyland, which may explain her love of haunted mansions, bygone eras, and fantasylands. She received degrees in drama and English from the University of California, Irvine, and formerly worked in publishing.

Her debut novel, IN THE SHADOW OF BLACKBIRDS—a YA ghost tale set during the World War I era—is coming April 2, 2013, from Amulet Books/ABRAMS. She currently lives outside of Portland, Oregon, with her husband and two kids.
CONTACT INFO
:
Goodreads

: http://www.goodreads.com/catwinters
Twi
tter: http://twitter.com/catwinters
Facebook: http://facebook.com/catwintersbooks
Website: http://www.catwinters.com
Here is Cat's guest pos

t for today's feature.
IN THE SHADOW OF BLACKBIRDS isn't a typical historical ghost story. It doesn't take place in a decrepit old manor house rising out of the gloom of an English moor. The setting is a very specific moment in time: October and November 1918, during the last weeks of World War I and the height of the deadly Spanish influenza pandemic that killed millions of people around the globe.

My main character, Mary Shelley Black (named after the author of FRANKENSTEIN), travels from Portland, Oregon, to live with her aunt in San Diego, California, after watching her father get arrested for treason. There's an atmosphere of fear and paranoia gripping America. Anyone who speaks out against the war is at risk of arrest. Anyone who catches the flu might die within hours. Encountering the ghost of her first love is only one of the many reasons Mary Shelley is trying to keep hold of her courage and sanity.

After researching 1918 America in depth, I realized I was dealing with a real-life version of a dystopian/apocalyptic setting. I decided to draw out the science-fiction elements of the time period. One of the first scenes that came to me was the opening chapter, in which Mary Shelley boards a train. I envisioned a crowded railroad car populated by passengers wearing flu masks, with only their eyes visible. Onions were a popular folk remedy used to fight off the flu germs, so I smelled the potent fumes of onions in the air and imagined Mary Shelley making her way past all the watchful eyes in her quest to find a seat. When a woman sneezes, Mary Shelley holds back on saying "gesundheit," for the word is German, and Americans were fighting Germany. She's worried she might go to jail for seeming un-American, like her father.

To add richer layers to my otherworldly atmosphere, I continuously drew upon reports of the 1918 flu and all the homemade flu remedies. Some people sprinkled sulfur over hot coals to try to chase away the germs, creating a smelly, eerie blue smoke—which seemed perfect for a paranormal funeral scene in the novel. I read accounts of coffins piling up in front of undertakers' homes and children climbing on the caskets as if they were playing in a fortress—chilling details that also went into the book.

In the research archives of the San Diego History Center (http://www.sandiegohistory.org), I learned about a Red Cross House that was opened for recovering war veterans in November 1918. Two scenes that are important to the story's central mystery take place in that convalescent home. I merged the archives' descriptions of the building with my own interpretation of what the men recuperating there would have looked like and how the place would have smelled and sounded. Those chapters became some of my favorite parts of IN THE SHADOW OF BLACKBIRDS, and even though those sections of the book were more grounded in the real, living world, they contain their own touch of the novel's surreal atmosphere.

There are also scenes involving the ghost—a troubled, terribly haunted eighteen-year-old soldier named Stephen Embers. Those moments usually occur at night, and most of the tension and fear my main character endures were drawn from my own experiences of lying in bed after reading a scary book or watching a frightening movie, my heart thumping so loudly until it sounded like a second heart beating inside my mattress. The aunt with whom Mary Shelley lives can't afford electricity, so most of the ghostly encounters occur by the light of an oil lamp, or in pitch darkness…as all frightening ghost scenes should.

Atmosphere and world building are an essential part of submerging one's readers into a story. I hope you enjoy your journey into Mary Shelley Black's dark and dangerous historical world and feel I've fully transported you to this strange, sad, and fascinating period in time—even if it makes you want to leave your own lights on at night.
GIVEAWAY:
Cat is giving away

a signed swag pack containing a bookmark, postcard, and bookplate, as well as a clock-gear necklace inspired by the jewelry that technology-loving Mary Shelley Black wears in the novel (All pictured below) to one lucky INTERNATIONAL winner.Giveaway is international

.Enter via the rafflecopter below and please check the TERMS AND CONDITIONS on the widget.Good Luck! :)
a Rafflecopter giveaway