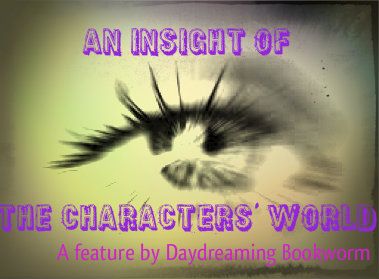 This is a feature where I ask authors to do a guest post discussing about the background of their books and share their experiences in creating the world in which the characters are portrayed.For more info on this feature,click HERE.
For today's post,Jennifer Archer stops by at my blog today to share her insights of her upcoming novel,The Shadow Girl.
THE SHADOW GIRL by JENNIFER ARCHER
"Sometimes I forget for an hour or two that she's with me. Sometimes I convince myself that she was only a dream. Or that I'm crazy."


For as long as Lily Winston can remember, she has never been alone. Iris, a shadowy figure who mimics Lily's movements and whispers in her ear, is with her always—but invisible to the rest of the world. Iris is Lily's secret.

But when Lily's father is killed in a tragic accident, his cryptic final words suggest that he and Lily's mother have been keeping secrets of their own. Suddenly, Iris begins pushing Lily more than ever, possessing her thoughts and urging her to put together the pieces of a strange puzzle her father left behind. As she searches for answers, Lily finds herself drawn to Ty Collier, a mysterious new boy in town. Together, Lily and Ty must untangle a web of deception to discover the truth about her family, Iris . . . and Lily's own identity.
ABOUT THE AUTHOR:
Goodreads:
http://www.goodreads.com/author/show/28572.Jennifer_Archer
Twitter:
http://www.twitter.com/jenniferarcher1
Facebook:
http://www.facebook.com/pages/Jennifer-Archer/159335414094711
Website:
http://www.jenniferarcher.com/
Here is Jennifer's guest post in which she shares the story behind The Shadow Girl's creation.
Typically many different elements come together to form the ideas for my stories and it's often difficult for me to pinpoint exactly one thing that inspired a book, a character, or a fictional world. That's definitely true of The Shadow Girl. When I think back to the time when the story and characters were percolating in my mind, I remember pondering the following things:
When I was in 6th grade, one day I slipped out of the room while class was in progress to go to the restroom. The school building was old, with dark echoing hallways, and the restroom across from my classroom was small and empty except for me. I remember standing at the sink, washing my hands. I could hear the distant sounds of teachers lecturing, books slamming shut, students talking quietly. I turned off the faucet and looked up as I reached toward the paper towel dispenser on the wall, and when my eyes connected with my own image in the mirror, my breath caught and for a moment I froze as I stared at myself. Who are you? That was the thought that flashed through my eleven-year-old mind. It lasted only a second , that odd and disconcerting feeling of disconnection from the girl in the mirror . . . myself. But I have never forgotten it. I think that moment was a natural part of growing up and trying to figure out who I was – not literally, but in the scope of my place in the world and what I believed about myself. And I think that the memory of that experience is at the core of my idea for The Shadow Girl. What if a girl named Lily senses a presence that stays with her all the time? Another girl whose whispers Lily hears in her head? A girl named Iris who feels to Lily like a separate part of her?
My love of ghost stories is apparent when I look back at the books I've written. In my novels for adults, two books – Sandwiched and Off Her Rocker – have subtle ghostly elements. However, my young adult novel Through Her Eyes is a full-blown ghost story in that the ghost is very much a crucial main character. In The Shadow Girl, I wanted to write a ghost story with a twist. Another true ghost story, but one that's more than that. And because I don't want to ruin the twist for anyone who hasn't yet read the book, I'll leave it at that!




In building Lily's world, I realized she needed to live in a somewhat isolated location with a fairly lonely existence so that Iris is one of the few "friends" she has. For this reason and others, I decided that her parents would home-school Lily. And I realized that setting her home in a fictional location in the mountains of southern Colorado would be perfect, because it is a very remote place. My husband and I have a cabin in the Spanish Peaks there, so I know and love the area. The two peaks – the east and the west – stand side-by-side and seem to me a perfect analogy for Lily and Iris. Lily explains this better than I can! Here are her thoughts about the peaks outside her bedroom window in her own words:



My parents and I live in a cabin my dad built in the Rocky Mountains of
southern Colorado. My bedroom is in the upstairs loft. As I roll to face the
window beside my bed, two peaks in the distance are the first things I see.
They're as vigilant as always, their frosty heads twinkling beneath a hazy wash
of moonlight.My parents and I call them the twin peaks, and they're so close
together that I used to imagine they held hands.Though the west peak
changes colors with each season, the east peak remains black and gray,
somber and dark. It's slightly taller than the west one and stands a step
behind, as if to watch over its smaller friend.


Also,the Spanish Peaks are rich with Indian legends,and I discovered that a few of them worked with my storyline. For instance, one legend states that anyone who sleeps in the shadow of the peaks never dies.How cool is that?
I love stories that feature characters facing challenges that force them to change and grow and learn something about themselves. Characters who ask "who am I?" Characters who ultimately learn that there is more to themselves than they ever imagined. That is the character I attempted to create in Lily.

Thank you so much f

or the guest post,Jennifer! :)
This guest post also comes with a giveaway!Giveaway is INTERNATIONA

L

and PLEASE CHECK the rafflecopter widget for the rules.Here's what you can win

:
a Rafflecopter giveaway