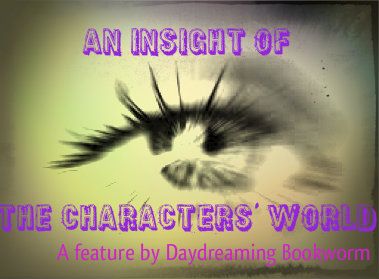 This is a feature where I ask authors to do a guest post discussing about the background of their books and share their experiences in creating the world in which the characters are portrayed.For more info on this feature,click HERE.
Today,Miriam Forster stops by at Daydreaming Bookworm to talk about her upcoming debut,CITY OF A THOUSAND DOLLS,which comes out on February 5th.Before that,here's a bit of info to help you get familiar with Miriam Forster and CITY OF A THOUSAND DOLL

S.
CITY OF A THOUSAND DOLLS by MIRIAM FO

R

STER
An exotic treat set in an entirely original, fantastical world brimming with deadly mystery, forbidden romance, and heart-stopping adventure.

Nisha was abandoned at the gates of the City of a Thousand Dolls when she was just a child. Now sixteen, she lives on the grounds of the isolated estate, where orphan girls apprentice as musicians, healers, courtesans, and, if the rumors are true, assassins. Nisha makes her way as Matron's assistant, her closest companions the mysterious cats that trail her shadow. Only when she begins a forbidden flirtation with the city's handsome young courier does she let herself imagine a life outside the walls. Until one by one, girls around her start to die.

Before she becomes the next victim, Nisha decides to uncover the secrets that surround the girls' deaths. But by getting involved, Nisha jeopardizes not only her own future in the City of a Thousand Dolls—but her own life.
ABOUT THE AUTHOR:
Miriam Forster learned to read at the age of five, wrote her first story at the age of seven and has been playing with words ever since. CITY OF A THOUSAND DOLLS, her debut novel, will be coming from HarperTeen on February 5th, 2013.

In real life Miriam is a wife, a book hoarder and a terrible housekeeper, But in her mind she's a deadly international assassin-ninja AND a fantastic dancer. When Miriam isn't writing, she plots out fight scenes, obsesses about anthropology, nature shows and British television, and reads far too much.
Twitter
And finally,the moment you've all been waiting for. Here is Miriam Forster's guest post where she gives us an insight on her experiences in bringing

CITY OF A THOUSAND DOLLS to life.
When I wrote City of a Thousand Dolls, I didn't start out to write a world with a caste system. But looking back, it doesn't surprise me that I did. When I think about all of my favorite fantasy novels, all the writers I would follow anywhere, many of them have something in common. They create deep worlds, worlds where different cultures clash, where people who have totally different backgrounds and experiences are forced to come together and deal with each other. I've always had a deep affection for books that celebrate the differences between people and how even in the differences, we are often the same.

But the Bhinian Empire--the world that City of a Thousand Dolls is set in--has been cut off from everything for five hundred years. How do you show different cultures and values if there are no other countries around? Fortunately, by the time I asked that question, I had started to fall in love with South Asia, and the caste system was already in place. So I started there.

There are five castes (Wind, Hearth, Bamboo, Jade and Flower) and each caste has different strengths and weaknesses. For example Wind caste is the lowest. The people are called Wind Caste because they're very nomadic. They're not allowed to settle in cities or towns without a work permit, so most of them travel around the Empire looking for work. The Flower Caste is the highest caste, the nobles. They're very wealthy and powerful, but they're also obsessed with perfection and ruled by fear.

This idea of different cultures doesn't just show up in the caste system. In the City of a Thousand Dolls itself, there are different Houses. The House of Music trains musicians and dancers, the House of Pleasure trains courtesans and the House of Combat trains warriors, etc. And all these girls are raised with different expectations and different ways of looking at life.

I love that. I love bringing together characters with totally different opinions and outlooks and values and watching them interact. I love that all these defenses make the story richer. Most of all, I love there are so many ways to be human.
This guest post also comes with a giveaway!Miriam is giving away a copy of CITY OF A THOUSAND DOLLS to one INTERNATIONAL winner.To try your luck at winning,enter using the rafflecopter widget below and check the te

rms and conditions on the widget.Good Luck! :D
a Rafflecopter giveaway