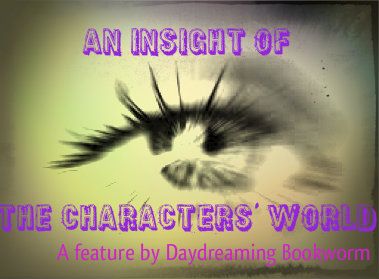 This is a feature where I ask authors to do a guest post discussing about the background of their books and share their experiences in creating the world in which the characters are portrayed.For more info on this feature,click HERE.
Today,Kelly Hashway stops by at my blog to share her experiences in creating the characters' world for her debut YA novel,TOUCH OF DEATH,which comes out on January 15th.Here's a bit of info on herself and TOUCH OF DEATH.
TOUCH OF DEATH by KELLY HASHWAY
Jodi Marshall isn't sure how she went from normal teenager to walking disaster. One minute she's in her junior year of high school, spending time with her amazing boyfriend and her best friend. The next she's being stalked by some guy no one seems to know.
After the stranger, Alex, reveals himself, Jodi learns he's not a normal teenager and neither is she. With a kiss that kills and a touch that brings the dead back to life, Jodi discovers she's part of a branch of necromancers born under the 13th sign of the zodiac, Ophiuchus. A branch of necromancers that are descendants of Medusa. A branch of necromancers with poisoned blood writhing in their veins.
Jodi's deadly to the living and even more deadly to the deceased. She has to leave her old, normal life behind before she hurts the people she loves. As if that isn't difficult enough, Jodi discovers she's the chosen one who has to save the rest of her kind from perishing at the hands of Hades. If she can't figure out how to control her power, history will repeat itself, and her race will become extinct.
ABOUT THE AUTHOR:
Now here's everything you need to know about how Touch Of Death came in existence.
I guess you can say I stumbled on the idea for Touch of Death. I was researching Greek mythology for another book at the time and came across a lesser-known myth about Medusa and the 13th sign of the zodiac, Ophiuchus. First, let me say I didn't make up the 13th sign of the zodiac. I've seen several reviews that question whether or not it's a real thing. It is. I can't take credit for it, no matter how much I'd like to. According to myth, Ophiuchus was a healer. His power came from the Gorgon Medusa's blood, which the goddess Athena gave to him in two vials. One vial contained the blood from the left side of her body, which was poisonous. The other vial contained the blood from the right side of her body, which could restore life. Ophiuchus never used the poisonous blood, but it made me wonder what would have happened if he had.

Since I wanted a cast of characters with both abilities, to kill and to restore life, I realized I was working with necromancers, but a different breed of them. I decided that they'd need to be born under the sign of Ophiuchus, so they are all born between November 29 and December 17. But I didn't want to leave Medusa out of the story. I read many myths about her and realized that she got a bad reputation for no reason. According to some myths, Medusa was cursed by the goddess Athena because Athena was jealous that Poseidon wanted Medusa and not her. I thought this was really unfair and I wanted to portray Medusa as the beautiful and caring Gorgon I now see her as. So my necromancers are descendants of Medusa. Jodi and her friends call themselves Ophi, and Medusa is like a mother to all of them.

The Ophi live in the world we all know. The difference is that the Greek gods are still around. The Ophi have safe houses to keep them away from humans, since their Gorgon blood is poisonous to humans. And because they are constantly raising souls from the underworld, they are on Hades' list (and no not his Christmas list). He wants them all dead so he can take their souls and their powers. Like all groups, some Ophi are good and some abuse their powers. Jodi, my main character, questions a lot of the Ophi and how they use their abilities.

And that's how Touch of Death came to be. Did I mention I'm born under the sign of Ophiuchus?
Thank you so much for this awesome insight, Kelly!
And today's post also comes along with a giveaway!Enter below to win a signed copy of Touch Of Death.For terms and conditions please check the rafflecopter widget.Good Luck!
a Rafflecopter giveaway