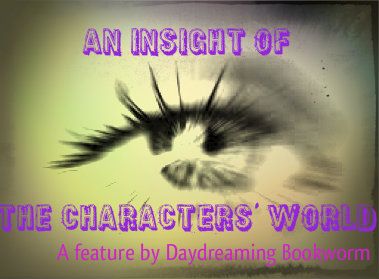 This is a feature where I ask authors to do a guest post discussing about the world building of their books and share their experiences in creating the world for their characters.For more information on this feature,click HERE.
Today
,Emma Pass stops by at Daydreaming Bookworm to discuss about the

world building

of her debut,ACID.

Thanks for stopping by,Emma!
ABOUT ACID:
2113. In Jenna Strong's world, ACID – the most brutal, controlling police force in history – rule supreme. No throwaway comment or muttered dissent goes unnoticed – or unpunished. And it was ACID agents who locked Jenna away for life, for a bloody crime she struggles to remember.

The only female inmate in a violent high-security prison, Jenna has learned to survive by any means necessary. And when a mysterious rebel group breaks her out, she must use her strength, speed and skill to stay one step ahead of ACID – and to uncover the truth about what really happened on that dark night two years ago.
ABOUT EMMA:
Emma Pass has been making up stories for as long as she can remember. Her debut novel, ACID, will be published in 2013, followed by another stand-alone thriller for young adults in 2014. By day, she works as a library assistant and lives with her husband in the North East Midlands.
Links:
Website
Blog
Twitter
Facebook
Emma's guest post:
ACID – An Insight of the Character's World
Writing a novel set in the future is a tricky business, because often, you're writing about things that don't exist (yet). In one way, this is very freeing and exciting, as you can make everything up – literally anything can happen! But in another, it's quite scary, because you can't expect your readers to just believe whatever you tell them. Even a future world has to follow its own logic, and be plausible. With ACID, I wanted to create a version of Britain that reflected the brutality of ACID and how much it might be possible for a country to change over the span of a century, yet it had to be believable – familiar, even – so that the worldbuilding didn't pull readers out of the story because it didn't feel 'right'.

I started with the politics, trying to work out how a police force as ruthless as ACID (which stands for The Agency for Crime Investigation and Defence) could have taken over from the government and got into power – then hung onto it for so long. I wrote pages and pages of notes, as well as looking back at notebooks from when I tried to write earlier versions of the book that didn't work out.

I decided that the UK of 2113 would no longer have a monarchy, so I renamed it the Independent Republic of Britain, which reflects the way ACID have cut the country off from the rest of the world to ensure their power is absolute. At this stage, I read up on North Korea, where the authorities have done this in real life. North Korean citizens don't even have access to the internet; instead, government officials have created their own intranet, loading information onto it so no-one sees anything they don't want them to – something which, when people read ACID, they will see I drew on directly.

Next, I had to figure out the implications of this for the ordinary people who lived under ACID's rule. At the time I started to write the book, there was a big outcry in the 'real world' about the UK becoming a 'nanny state', where everything people did was micro-managed by the government. For example, did you know that in 2009, the Shetlands, a tiny collection of islands north of the Scottish mainland, apparently had more CCTV cameras than the San Francisco police department?

So I tried to imagine what life would be like if this was truly taken to the extreme, with ACID watching your every move: deciding where you live, what sort of education you get, what sort of job you have, what food you can eat (and what you can't), what sort of clothes you can wear, even how much TV you have to watch every day and who you marry – a process called LifePartnering, which people go through at 16. Everything depends on your social class, which, again, is decided by ACID, who've even gone as far as dividing up London, still the country's capital city, into sections where people are placed according to their status. If you step out of line, punishment is swift, and terrifying. ACID have created super-prisons where you can be sent for the slightest infringement. Even hugging someone of the opposite sex who isn't your LifePartner could result in you being arrested – and sent down without a trial. And as for the people they want to get rid of forever… well, you'll have to read the book to find that out!

Creating ACID's world was interesting and, at times, quite scary, as I began to see how easy it would be for a real-life dystopian society to develop. And it was fun, too – as a reader, I've always loved the 'what if' posed by these sorts of novels, and it was great to have the chance to create my own.
Giveaway!!!
Emma is giving away a signed copy of ACID to one INTERNATIONAL winner.Enter usi

ng the rafflecopter below and

see TERMS AND CONDITIONS on rafflecopter widget for the r

ules.
a Rafflecopter giveaway