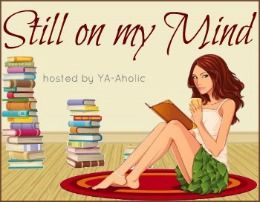 Still on my mind is a weekly meme hosted by
Ya-Aholic
.In this meme you're supposed to discuss a book that is still on your mind.It doesn't matter whether you read it a few months ago or several years before.This is my first "Still on my mind" meme and I hope to continue it every Thursday here at my blog.
So for my first "Still on my mind" meme I'll be discussing
A Million Suns by Beth Revis .
Book Title:
A Million Suns (Across the Universe #2)
Author:
Beth Revis
Published :
January 10th 2012 by Razorbill
Pages :
386
Summary:
Godspeed was once fueled by lies. Now it is ruled by chaos. It's been three months. In that time, Amy has learned to hide who she is. Elder is trying to be the leader he's always wanted to be. But as the ship gets more and more out of control, only one thing is certain: They have to get off the ship.
Now,off to the main question.Why is this book still on my mind?
I read this book four days after its release and the first book of this series (i.e,Across the Universe)exactly a week before.I accidentally came across this series while browsing through B&N's teen/YA book directory.But I'd like to call it fate instead of accident.At that time I had been reading so many chick-lits and paranormal books that I grew fed up of it.I totally need a change and this series was my savior.I mean,how many science-fiction YA novels have you come across?Okay,maybe quite a few but I bet that they're still not as good as this one.What I liked about A Million Suns was that it was more action-packed than the first book in the series.While the book does not end in a cliff-hanger,it will make you feel the same way so you might as well be prepared for one when you start reading it.This book kept me up for nights all because of its cliff-hanger like ending.There were still so many questions left unanswered.What bothered me the most was that the third book,which is Shades of Earth,will be released in 2013.What will happen if we all die in 2012?Then I'll never get to read the book. :,(
But honestly,it's been a long time since a book has left such an impact on me.I'd absolutely recommend this to anyone who's looking for a change in YA books.