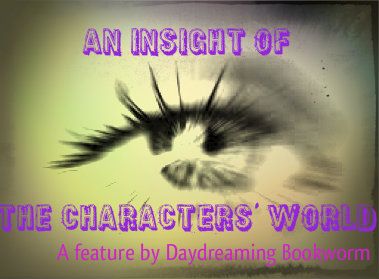 This is a feature where I ask authors to do a guest post discussing about the background of their books and share their experiences in creating the world in which the characters are portrayed.For more info on this feature,click HERE.
So as you all might have noticed,I've been inactive the past two weeks.This was because our merciless subject teachers kept showering us with pop quizzes and tests.Not to mention that I joined coaching for my O'Levels,which just took up a lot more of my time.So to make up for my absence,today Meagan Spooner is here at my blog to talk about her debut,Skylark,which just got released in the U.K this month.Since I'm focusing on the U.K edition,the giveaway of the book for today's post too will be of the U.K edition.Which means that the giveaway is open to anyone in the world except North American residents.Sorry guys!!!But you can always check out the guest post. :)
SKYLARK by

MEAGAN SPOONER

Vis in magia, in vita vi. In magic there is power, and in power, life.

For fifteen years, Lark Ainsley waited for the day when her Resource would be harvested and she would finally be an adult. After the harvest she expected a small role in the regular, orderly operation of the City within the Wall. She expected to do her part to maintain the refuge for the last survivors of the Wars. She expected to be a tiny cog in the larger clockwork of the city.

Lark did not expect to become the City's power supply.

For fifteen years, Lark Ainsley believed in a lie. Now she must escape the only world she's ever known . . . or face a fate more unimaginable than death.
ABOUT THE AUTHOR:
Meagan Spooner grew up reading and writing every spare moment of the day, while dreaming about life as an archaeologist, a marine biologist, an astronaut. She graduated from Hamilton College in New York with a degree in playwriting, and has spent several years since then living in Australia. She's traveled with her family all over the world to places like Egypt, South Africa, the Arctic, Greece, Antarctica, and the Galapagos, and there's a bit of every trip in every story she writes.

She currently lives and writes in Northern Virginia, but the siren call of travel is hard to resist, and there's no telling how long she'll stay there.

In her spare time she plays guitar, plays video games, plays with her cat, and reads.

She is the author of SKYLARK, available now from Corgi/Rando

m House U.K

. She is also the co-author of THESE BROKEN STARS, forthcoming from Disney-Hyperion in Fall 2013.

You can find her on the web at http://www.meaganspooner.com.
Meagan's Insight into the world of Skylark.
I think that after "where do your ideas come from" and "what's your favorite author," "how did you come up with the world of SKYLARK" is the most common question I get asked. In general world-building is a fascinating process, but with SKYLARK in particular, people are drawn by the mixing of fantasy and dystopian, steampunk and magic, survival and adventure. I often get asked how I manage to blend these genres in the world without everything seeming jumbled.

For me, the world in SKYLARK is its own unique thing. I don't think of it as a fantasy world or a dystopian world. I didn't set out to create a book within a particular genre—in fact, labeling it with a genre became problematic later when I was trying to figure out how to pitch it to agents, and later, to publishers.

I got the first glimmers of an idea for the world of SKYLARK while listening to the radio, a segment on global warming and the energy crisis. As they talked about alternative fuels my mind wandered, and I began to wonder what it would be like if you could run the world on magic—if magic existed, and could be harvested as a resource the way we harvest fossil fuels for energy.

From there everything else fell into place. The world of SKYLARK once had fantastical machines that ran on magical energy, gathered from the life force of every living thing. In their world this power was abused and depleted, and by the time the book starts, Lark and the others in her city are living inside a dome, a tiny enclosed island in a post-apocalyptic wasteland.

Maybe some day I'll write about the world of SKYLARK before it fell apart, the golden age of mechanical walkers and copper animals—but for me, the aftermath was the more interesting place to start. What do you do once everything falls apart? How do you survive without even the simplest of the things you once took for granted?

During the story, Lark learns she must flee her home city into the magically-wasted landscape beyond. Not knowing what she'll find there, she chooses the dangerous unknown over what she knows is waiting for her at home. Through her travels, in this book and over the next, she begins to put together an image of what this world used to be like—and might yet be again.
And finally, a giveaway of a U.K edition copy of Skylark,donated by Ruth at Random House Children's Publishing U.K.This giveaway is open to anyone living outsi

de North America.
Enter via the rafflecopter widget.Be sure to check terms and conditions and lastly,cheating disqualifies ALL entries.I've seen quite a few of you entering your name into the GFC option in the widget but not exactly

following
the blog via GFC.And I've deleted all entries for such candidates
on previous giveaways.But anyway,good luck!!
a Rafflecopter giveaway