* ORIGINALLY POSTED AT THE BENGALI NOMAD. **
Title:
The Serpent's Secret
Author:
Sayantani Dasgupta
Publication:
February 27, 2018 by Scholastic Press
Purchase details:
Received an Advanced Reader's Copy from Scholastic Press for Review
Get your own copy!: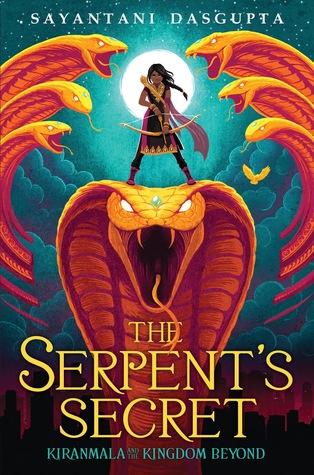 MEET KIRANMALA: INTERDIMENSIONAL DEMON SLAYER
(But she doesn't know it yet.)
On the morning of her twelfth birthday, Kiranmala is just a regular sixth grader living in Parsippany, New Jersey… until her parents mysteriously vanish later that day and a rakkhosh demon slams through her kitchen, determined to eat her alive. Turns out there might be some truth to her parents' fantastical stories—like how Kiranmala is a real Indian princess—and a wealth of secrets about her origin they've kept hidden.
To complicate matters, two crushworthy Indian princes ring her doorbell, insisting they're here to rescue her. Suddenly, Kiran is swept into another dimension full of magic, winged horses, moving maps, and annoying, talking birds. There she must solve riddles and slay demons all while avoiding the Serpent King of the underworld (who may or may not want to kill her) and the rakkhosh queen (who definitely does) in order to find her parents and basically save New Jersey, her entire world, and everything beyond it…
Before I begin this review, I'd like to personally thank the author. I grew up reading fantasy and adventure novels that mainly featured white/western protagonists. Sure, I did enjoy the occasional dose of
Meena Raju
,
Thakurmar Jhuli
and
Gopal Bhar
,
but none of them sported characters whose world I could actually step into. Back then, my mind was far too young to see this as an issue, so I just stuck to role playing characters like Cinderella and Sleeping Beauty. Reading The Serpent's Secret brought back all those memories. Despite being a 21 year old, Kiranmala still allowed me to become a part of her adventures. For the first time, I thought that maybe my culture's folktales were decent after all. Never in my wildest dreams did I think that tuntuni, pakkhiraj and rakkhosh could ever aspire to rise to the ranks of mythical creatures like satyrs, dragons and griffins. So for all this and more, thank you, Sayantani Dasgupta. Thank you for giving me a book that makes me look forward to my nephew reading it by himself in a couple of years. Also, thank you for allowing me to dream of the
#Neelkamala
fandom. I really hope that this book does well in stores.
Onto the more serious review. The Serpent's Secret is a middle-grade fantasy adventure story. It is also an immigrant story, of a Bengali(Indian)-American girl trying to fit in between two cultures. I've only been living in the U.S. for three years, and even I have an identity crisis every now and then. Therefore I can't imagine what this would be like for someone having cope with balancing two cultures throughout her life. And as a heroine in her pre-teens, Kiranmala portrays this common dilemma reasonably well.
Furthermore, gone are the days where the phrase "prince charming" is only synonymous with the image of a handsome man with blonde hair and blue eyes. In Kiranmala's story, a prince charming can also be a desi boy in a silk turban. I know I've mentioned this before but may I just mention one more time about HOW MUCH I wish I had this book during my early teens? Back when I thought that I'd outgrown tales of Rakkhoshes and tuntuni? Even if one is unfamiliar with Bengal's folktales and culture, I really hope that they pick up The Serpent's Secret and (more importantly) enjoy it because this book is a vivid renovation of my childhood tales. Also, the end of the book contains some detailed information on the sources of these folklore characters (so that no one is left in the dark regarding the context behind the story-building).
Kiranmala is a strong and feisty female lead whom I couldn't be more proud of. But the attraction she feels towards the princes shows that a strong personality doesn't condemn feeling attraction towards the opposite gender. One does not have to cancel out the other. This, for me was a very important aspect of the story. Considering the target audience, the concept of desiring another was well incorporated into a fun and adventurous plot.
The Serpent's Secret also contains some good humor to please its readers. From references like ridiculous desi ads to common American middle-schooler dilemmas, its humor creates a bridge between two cultures. Here are some of my favourites
(Please note: Quotes taken from an Advanced Copy and may slightly vary in the final copy of the book)
:
On poking fun at government repulsion of undocumented immigrants:
"
Those upstanding royalty, citizens, animals, and demons holding papers (this way)
All the rest of you good for nothing undocumented scoundrels (this way)
"
On poking fun at desi commercials:
Try Mr. Madan Mohan's motivational motion device!
Also, did I mention how much the occasional
"Hau!! Mau!! Khau!!"
made me smile? Back when I was a child baba (my father) would come home from work and yell
"Hau!! Mau!! Khau!! Manusher gondho pau!!"
in a scary voice and this would make me squeal in delight!
"Hau!! Mau!! Khau!!"
has no particular meaning; it is considered to be the scary sound that a rakkhosh makes.
"Manusher gondho pau!!"
on the other hand, means that
"I smell human flesh!!"
So basically, it's a typical rakkhosh punchline.
Final verdict: This is an amazing story: it is well written and has some fascinating world building in it. And hopefully once it's out, it will generate a new fandom. I am counting on everyone who reads this book to convert into an avid
#Neelkamala
, the details of which you'll have to find out **by reading the book**. Once you've read it (or if you already have), hop onto twitter and tweet me all your
#Neelkamala
woes
@1102Daydreaming
. Till then: Happy reading! And may you steer clear of any serpents (or as we bengalis call it: ojogor shaap) !
GIVEAWAY!
Scholastic has offered to give away a finished copy of The Serpent's Secret to ONE lucky winner! You can also enter if you're based in Bangladesh, because I can bring it back for you! Giveaway ends on March 8th. Good luck! Enter using the rafflecopter widget below.
- You must be at least 18 or have parents' permission
- I am not responsible for any shipping or handling damage, as the book will be mailed by Scholastic
-Cheating disqualifies entries (I do check!)
a Rafflecopter giveaway